Papa's Sushiria
by Flipline Studios
Did you like the game? Click Like, so we'll add more games like this!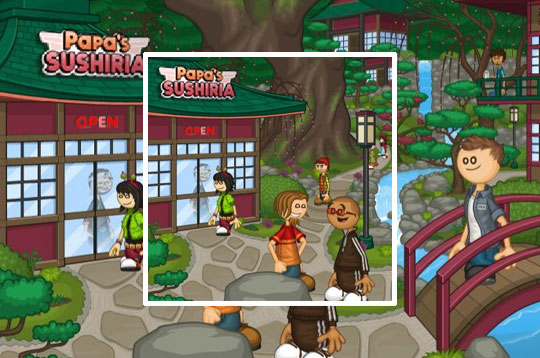 In Papa's Sushiria, your goal is to open a sushi restaurant with the legendary Papa's!
Be the kitchen helper of the famous Papa Louie and serve all the customers by delivering the most delicious dishes possible.

There are 145 ingredients to unlock in Papa's Sushiria! Show your cooking skills right now at the Japanese restaurant.

Papa's Sushiria is the thirteenth game in the Papa Louie restaurant management series. The game was first announced on October 25, 2016.

Matt and Clover are the creators of the game and were the winners of Papa's Next Chefs 2016. The game takes place in Sakura Bay and was officially released on December 13, 2016, as a Christmas gift from Flipline Studios.

Game Description Papa's Sushiria
Your day gets worse when you break Papa Louie's lucky cat statue. Is that to blame for the restaurant's disappointing opening day? All we know is that Papa Louie set out on a wide-eyed mission and now you're stuck running the restaurant. Can you change your luck and master the art of sushi making?
Perfectly cook, season and spread rice with the all-in-one "Sushi Square". Then fill, roll and coat the sushi with a huge variety of fresh ingredients. Finish by cutting the sushi into bite-sized pieces for your hungry customers.

Bring on the bubbles! Papa's Sushiria also has Bubble Tea to serve along with the sushi. Mix flavored teas with milk and add tapioca pearls or one of the many other delicious flavor bubbles.

Missing your favorite customer? Why not send some coupons with the help of your friendly mailman, Vincent! Customers love a good deal and will arrive promptly to order more food. Coupons are great for completing missions and strategically leveling up customers!

How to play Papa's Sushiria
Cook, season and spread the sushi rice
Fill, roll, cover and cut the sushi
Create a unique bubble tea to serve with sushi
Earn colorful stickers by completing unique tasks
Use stickers to unlock new outfits for your customers
Master 40 unique special recipes
Send coupons strategically to attract customers back
Hire a waiter for the dining room
Customize your chef and server
More than 49,360,000 items to buy in the clothing store
Buy festive furniture to fill your lobby
Play for 4 seasons and 12 holidays
Unlock over 145 menu items
106 crazy customers to unlock
7 fun mini-games with lots of prizes to win
Use their tips to buy upgrades for your store
Weekly wages and increases as you level up
Play with the left mouse button.