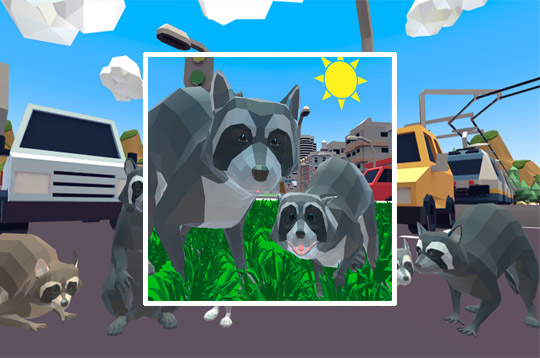 HOW TO PLAY
Game Raccoon Adventure City Simulator 3D
Raccoon Adventure City Simulator 3D is a 3D simulation game that you will play with a raccoon to explore a big city or a forest in search of adventures.
To survive in the city, feed your raccoon and save it from all the forest predators. Develop your skills so that he gets stronger and stronger.

How To Play Raccoon Adventure City Simulator 3D
Try to evolve your raccoon to become an adult. With each level reached he will grow and form a family. Even have children!
Provide a house for the raccoons to live in, you can make improvements with the game bonuses.
Customize the look to your liking
Always make improvements to each family member, improving each character's skills
Explore the big city and the forest on the map, be careful with the cars and people of the city. And also beware of all hungry forest predators
Have fun with all the animals in the game! Like cats, dogs, wild boars, chickens, cows, foxes, cougars, goats, snakes, rabbits, pigs, mice, wolves and snails.
Perform all tasks to earn experiences and coins. Other raccoons may offer you new tasks
Have fun with all the mini games! How do you help raccoon drive a car, play soccer, drive a boat, participate in races, and more?
Complete all exciting tasks and missions with your raccoon in Raccoon Adventure City Simulator 3D!
Controls
WASD or Arrow Keys: Move
Left mouse button: Attack or click UI
Spacebar: Skip
Shift: run
C: enable / disable sneaking
Creator
Raccoon Adventure City Simulator 3D was created by CyberGoldfinch.