Five Nights At Candy's
Did you like the game? Click Like, so we'll add more games like this!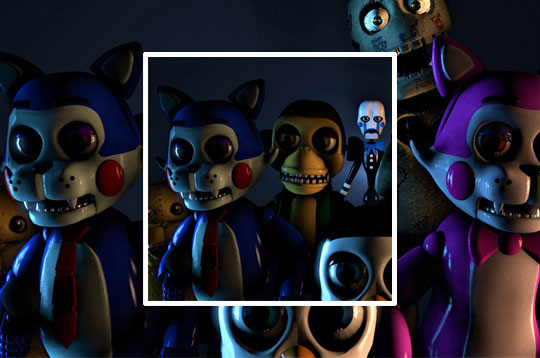 Enjoy another exciting version of Five Nights in our collection! In Five Nights At Candy's, your objective is to survive in a haunted restaurant with several animatronic dolls.
Work as a security guard at the establishment by looking closely at all security cameras to keep an eye on all dolls. Don't forget to close the doors when necessary!

How to play Five Nights at Candy's
The entire restaurant will be dark at night, so the cameras have Night Vision.
Activate Night Vision by clicking on a camera;
Switch to the other cameras with Night Vision enabled and click on a camera again to disable Night Vision;
The CAM-04 and CAM-06 cameras are pointed on the other side of each of the doors, so use Night Vision to see if anything appears;
The 3 "mini batteries" above the Power Meter are for each of your office's 3 doors;
When a door is closed, the mini-power meter for that door will begin to fill;
The mini power meters show how much power a door uses, and the longer a door is closed, the more power it drains.
Controls
Mouse: open the security system and look around;
Spacebar: turn on / off light;
Arrow keys: close or open the left door, the right door and the window.