Squid Guard
by Kevin Games
Did you like the game? Click Like, so we'll add more games like this!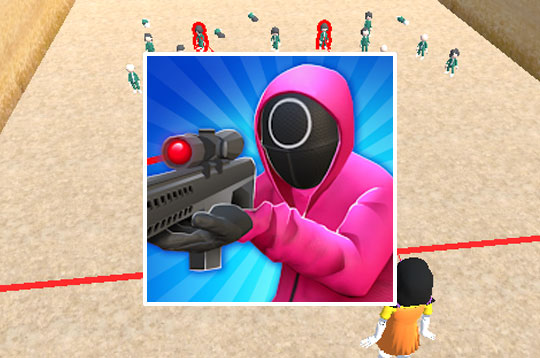 Have fun with another amazing Squid Game in our collection! In Squid Guard, you'll be on the other side of the challenge, the enemies! Become the villain of the movies, disqualifying all players who make a mistake during the tournament with their weapons.
Identify the correct targets during the process to avoid taking out innocents!

How to play Squid Guard
Red-Light-Green-Light. In this race, participants must cross the finish line in less than a minute. But they can only run while the scary doll sings. When he stops, they must stop immediately. Those who do not comply are shot.
Step stones. The objective is to reach the opposite edge of the chasm. The bridge consists of 2 rows of transparent panels. Every jump is a gamble, as half of the pieces are fragile. Make sure the underdogs get what they deserve.
Sweet Dalgona. Competitors must cut out the engraved design on a cookie. This is a delicate craft that requires precision and concentration. But of course, time is limited. If someone breaks your treat or takes too long, waste them.
These are just a few examples of possible scenarios. Respect the same principles and react to circumstances appropriately.
Play with the left mouse button or click on the screen of mobile devices.